We've done the maths. But saving $600k in 10 years is just one good reason to switch to the cloud.
---
In today's fast-paced world, healthcare needs to be as efficient and technologically advanced as any other sector. This doesn't mean adopting the latest technology for the sake of it. It does mean delivering 21st-century healthcare and, by doing it right, reaping substantial, long-term cost savings, and significant workplace and environmental benefits.
Here are eight reasons why cloud technology is essential to healthcare:
Interoperability is the future
Interoperability isn't just a passing trend. Governments worldwide are moving towards legislating information sharing by default and cloud technology ensures real-time information exchange at the point of care. In contrast, non-cloud technologies, including cloud-bridging platforms, introduce multiple risks ranging from data integrity to security and governance issues. Cloud-based electronic health records (EHRs) provide superior interoperability, enabling more coordinated and integrated care.
Cloud technology drives operational efficiency
From minimised IT overheads to consolidation of services and identity management, cloud technology reshapes how businesses operate. It offers universal access, strengthens data security, supports single source systems, and much more. Adopting the cloud doesn't just mean upgrading technology; it enables overhauling and enhancing the operational fabric of your organisation.
Unparalleled scalability with cloud solutions
The adaptability of cloud applications is noteworthy. In a landscape that's continuously evolving, cloud-based solutions can adeptly manage unpredictable usage patterns, support multi-party usage, and adapt to regulatory changes swiftly. With unparalleled scalability, cloud solutions are equipped to handle increasing data volumes, user counts, and evolving stakeholder needs.
Cost analysis: cloud vs on-premise
When it comes to the financial aspects of healthcare, cloud solutions offer undeniable benefits. Consider the following costs associated with cloud and on-premise solutions: Click here to view the below table in a new window.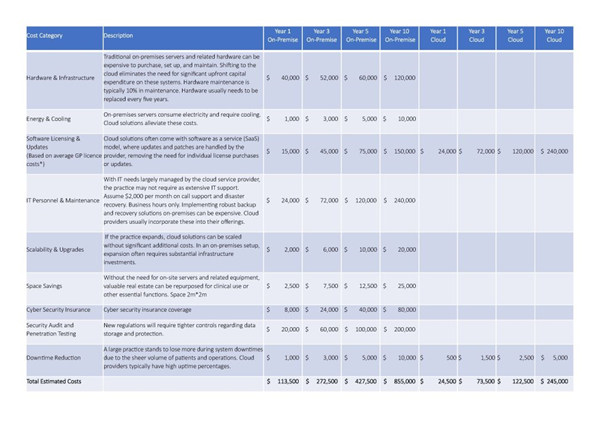 Adapting to the casualised workforce trend
The post-pandemic period has witnessed a shift towards a more casualised healthcare workforce. The burgeoning telemedicine sector, and changing economic circumstances, have resulted in more flexible work arrangements. Digital platforms are bolstering this change, fostering work-from-anywhere telecommuting and freelance opportunities. Cloud technology stands at the crux of these changing workforce trends, ensuring seamless transitions and facilitating innovative care models for healthcare providers and consumers.
Meeting patient expectations in the post-covid era
The covid pandemic reshaped many sectors, and healthcare wasn't exempt. Nowadays, patients anticipate digital solutions such as online appointment bookings, e-prescriptions, and quick access to telemedicine. Beyond the functional solutions, they also expect a personalised touch to their care, and more involvement in decision-making. Digital healthcare, powered by cloud technology, enables safety improvements, real-time access to information, and an enhanced patient experience.
Environmental benefits
According to research, cloud computing can decrease carbon emissions by approximately 60%-70%. This not only reflects more sustainable utilisation of resources like water, but also effective management of waste products when decommissioning hardware. As opposed to traditional data centers, cloud data centers are known to be significantly more energy efficient (1,2). Transition to the cloud means reducing the carbon footprint of your health business.
Virtual care: the way forward
With virtual care rising in popularity, especially in Australia, integrated patient data systems are crucial. Cloud-based EHR solutions offer healthcare providers location-agnostic access to patient data, ensuring comprehensive care, whether provided remotely or in-clinic.
In summary, the transition to cloud technology in the healthcare sector isn't just a tech upgrade; it's a holistic approach to meeting modern business challenges head-on. Furthermore, the estimated costs savings over a 10-year period for a 10-doctor practice is over $600,000, not to mention the environmental benefits and peace of mind that come with outsourcing operations to a trusted partner.
Whether you're a startup or an established player, it's time to harness the power of the cloud.
Matthew Galetto is the CEO and founder of MediRecords, a cloud-hosted electronic health record and patient management platform.
References: