Big distances, rurality, insecure housing and a string of natural disasters are the big contributors.
---
Murray PHN's Health Needs Assessment report has found that alcohol use was "by far the leading AOD problem, resulting in both short-term problems and long-term consequences".
"It is the cause of a high proportion of police and ambulance attendances, and around half of all adults living in the Murray PHN catchment are noted to have a lifetime risk of ill-health due to alcohol use."
The Murray region is not alone in that however, with yesterday's release of the ABS Causes of Death, Australia report showing a 9.1% increase in the alcohol-induced death rate in 2022, the highest rate recorded in over a decade.
The PHN has released the results of its latest Health Voices Survey on mental health and AOD services, needs and experiences, building on its 2022-2025 Health Needs Assessment.
While most respondents reported their current state of mental health as about eight out of 10, with 10 "very good", almost 85% said the PHN's service area needed more mental health services, more AOD services, or more of both.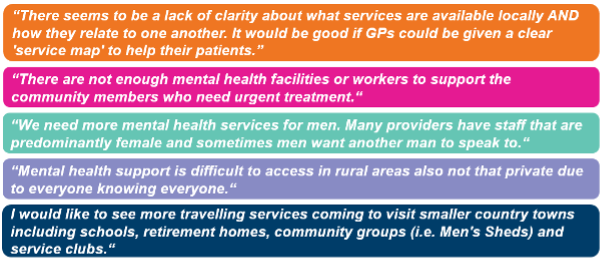 When it came to alcohol and other drug support options, respondents had four major suggestions:
in-person options (62.71%)
services in rural areas (57.63%)
after hours options, including on weekends (50.85%)
easier access to existing services; having them come to my area; outreach services to my home; or transport (42.37%)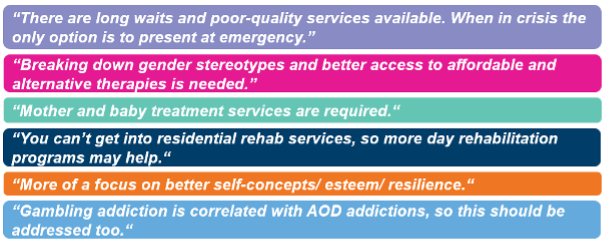 Many comments in the survey highlighted social determinants of health as being critical to the need for mental health and AOD services.
Education came in for some attention, with one respondent saying: "There needs to better education of school age people regarding bad outcomes of alcohol, as well as parents leading by example."
Another said: "More education [is needed] for those people, parents and carers trying to support a loved one with drug or alcohol addictions.
And another said: "We need education around how a service operates, so people are clear about what each organisation offers."
Murray PHN covers a huge area across the north of Victoria, from the SA border and Mildura in the north-west to Woodend in the south, across to Seymour and up to Albury on the NSW border – an area of almost 100,000 square kilometres that is home to 650,000 people.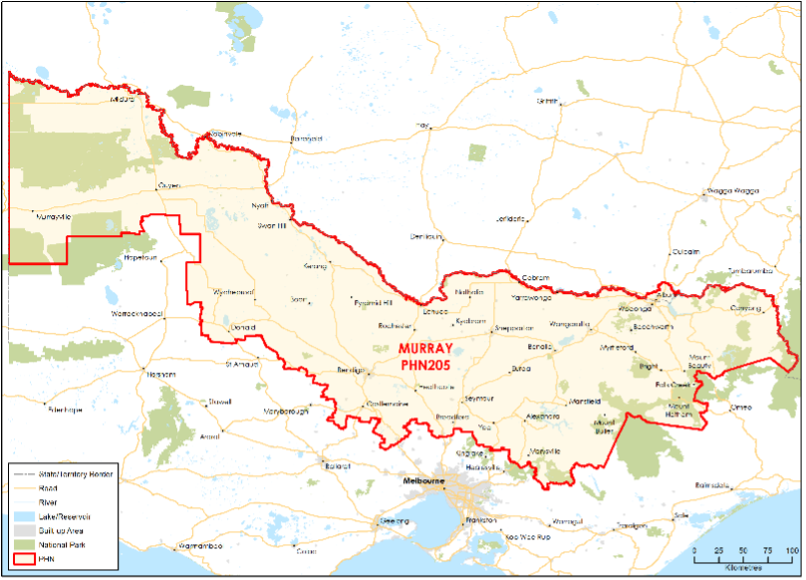 Three shires in the central Victoria region of Murray PHN – Loddon, Buloke and Gannawarra – are classified as MM5 – that is, made up of small rural towns, some of them without GP clinics.
"We need more secure housing," said one respondent to the survey.
"Alcoholism is leading to homelessness in our area. I think this is related to not having to any local activities to do, such as a Men's Shed," said another.
There was some good news about some services, however, with one respondent declaring that Head to Health was "brilliant".
Most respondents either owned their home outright (51%) or with a mortgage (43%) and 20% felt less or much less secure in their housing situation than they did a year ago.
In the last five years, 44% of people had discussed mental health or alcohol and/or other drugs concerns with their GP and 28% had accessed or had been referred to services.
Sixty-eight per cent of people who responded to the survey considered their community to have an unhealthy relationship with alcohol, while 81% considered themselves to have a somewhat or very healthy relationship with alcohol.
For more information about the survey, click here.
The Murray PHN Health Needs Assessment 2022-2025 can be found here.
Thunderstorm asthma
The start of spring also meant the start of thunderstorm asthma season in Victoria and two PHNs are running events to help educate practitioners and the public:
Western Victoria PHN will hold a webinar on Thursday 26 October from 7pm-8pm (AEDT). Main speaker will be RN Marg Gordon. For more details contact WVPHN at info@westvicphn.com.au.
North Western Melbourne PHN has a slide presentation online here.
Positions vacant
Tamworth Aboriginal Medical Service, an Aboriginal community controlled healthcare service in the Hunter New England and Central Coast PHN, is searching for a new CEO.
"The CEO is responsible to the board of directors for providing leadership … execution of strategy and management of all aspects of operations … must engage actively with multiple key stakeholders to improve the health and wellbeing of the Aboriginal communities we service … It is critical the CEO has strong cultural awareness and focus on respectful and effective engagement with the community."
Applications close on 13 October.
Murray PHN is recruiting for a chief operations officer, a newly created role reporting to the CEO.
"Leading a dedicated team of approximately 50 professionals, the COO cultivates an organisational environment of agility, collaboration, and innovation, through the ability to build relationships and engagement with primary care providers and the communities."
For more information, contact John Cross on 0417 332 598.
South Western Sydney PHN is looking for a non-executive director (Aboriginal and/or Torres Strait Islander specific).
To find out more, contact Kristen Short kristen.short@swsphn.com.au or (02) 4632 3059. Applications close on Thursday 19 October.
Eastern Melbourne PHN is looking for a risk and compliance manager with responsibility for "leading the ISO 27001 accreditation project, implementing our newly designed clinical governance framework with providers, managing internal audits and overseeing our risk management framework". It's a $145k-$160k package.
Do you have a story tip for us, or a topic you would like to see us cover? Contact the editor at editor@healthservicesdaily.com.au.